The Shock Roach is a bio-weapon in Sven Co-op. It appears as a bug-like organism that generates pulses of electricity which can be controlled. Similar to the Hivehand both in its operation and usage, the Shock Roach is the choice weapon used by Shock Troopers, giving rise to their names.
After a Shock Trooper is killed, the Shock Roach it was wielding will leave its host and, being unable to use its electrical powers, it will jump to attack players in a manner similar to the Headcrab. However the damage is minimal and will quickly die without a host. The shock roach must be picked up before it dies to be able to wield it as a weapon.
Function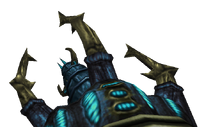 As a weapon, it does electrical damage to enemies, secondary fire allows it to emit an intense lightning ray, that has the added bonus of charging armor of other players. Like the minigun, it is a disposable weapon that disables switching to other weapons in the loadout and must be dropped to be able to do so. 
Caution is to be used when wielding this weapon: if the weapon reaches 30 ammo it will become unstable, the weapon must be dropped before it discharges all of its remaining energy in an explosion, which will damage the user. If fired underwater, it will instantly kill the user.