Just like the grunts, the male assassins have various load-outs. However, they are stronger, faster, and highly trained. Don't let them get too close as their martial arts ability is as efficient as their weaponry.
Technical Information
Weapons
"weapons" "w", when w equals:
1: MP5
2: Hand grenade (use weapon value + 2 to enable)
4: AR grenade launcher (uses M16A2 when classic mode is disabled, otherwise MP5)
8: Sniper rifle
16: None / Melee
256: Sniper rifle (not dropped on death)

Appearance
'"body" "b", when b equals:
0: White skin, MP5
1: Black skin, MP5
2: Nightvision goggles, MP5
3: White skin, sniper rifle
4: Black skin, sniper rifle
5: Nightvision goggles, sniper rifle
6: White skin, unarmed
7: Black skin, unarmed
8: Nightvision goggles, unarmed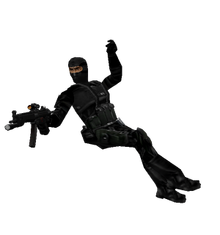 Community content is available under
CC-BY-SA
unless otherwise noted.