We're Getting Mutants in the MCU - The Loop
Play Sound
The Crossbow is a scoped weapon used in Sven Co-op that allows player to take down enemies from afar. Unlike the Sniper Rifle, it fires a projectile that requires timing to land shots on moving targets, and has an explosive payload that detonates when it hits hard surfaces.
Function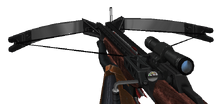 Made by Black Mesa research personnel, this weapon is used to poison enemies for a short time, and requires timing to accurately hit targets especially if they are moving. If the fired bolt misses it explodes in contact with hard surfaces and wounds anyone near the blast, although light. Being one of 3 weapons that can fire underwater (the 9mm Pistol, and the Rocket Launcher being the other 2), the Crossbow is suitable for taking down the Ichthyosaur.

It's drawbacks are that it is slow when bolts are launched, not like the M40 that takes a direct hit, and slower than the M40 sniper rifle, on loading another round. It's sights are not like the M40, which is like a sniper's scope, but rather of a simple, side dotted crosshair when zoomed.
Strategy
Pros
Poison tipped bolts used to injure enemies to weaken them
Explosive bolts to wound enemies if misses- useful for clearing out Baby Headcrabs that otherwise are difficult targets via the explosive
Can shoot underwater- used to take down Ichthyosaurs
Has a larger carry capacity than the Sniper Rifle (50 for the bow, 15 for the M40)
Useful in stealth kills
Cons
Slower than the Sniper rifle in all aspects (action, firing and hit)
Slow projectile speed
Hits are not direct
Flies towards the target, and must be still for kill or injury
Tactics
Use this to take down enemies silently from afar, especially strong ones
It is advised to use this to take down Ichthyosaurs underwater
Do not aim towards moving enemies, it is not a sniper rifle
Counter-Tactics
Use sniper rifles to instantly kill threats
Switch to any weapon other than it.
Notes
The detonating darts feature can be disabled in a server's configuration files.