The Barnacle Grapple is a weapon used in Sven Co-op.
Function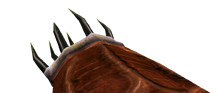 This is a removed version of the original barnacle, which is also tamed by Black Mesa scientists.
The only biological tool used, it can grip into other players and NPCs, and surfaces that are textured "xeno_grapple", secondary fire mode selects pull or rappelling mode. When grappling enemies, the barnacle will eat enemies.
Weapons
Handguns
9mm Pistol · Revolver · Uzi · Desert Eagle
Light arms
Submachine Gun · Shotgun · Assault Rifle ·
Special weapons
Crossbow · Rocket Launcher · Minigun ·
Alien weapons
Hivehand · Shock Roach · Spore Launcher ·

Barnacle Grapple · Snark

Explosives
Hand Grenade · Laser Tripmine · Satchel Charge
Tools
Medkit · Crowbar · Pipe Wrench · Knife